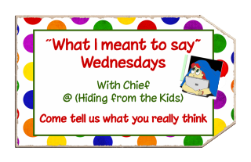 When Chief told me her friend has cancer that has returned and that it is terminal...
What I said: "I will pray for her and her family."
What I meant to say: "Cancer sucks! I am so sick and tired of cancer robbing good people of the life they should have been able to lead. It should not be allowed to take the breath from mothers of 6 children who have already had to give up time with their family to the military. Cancer should not take our babies away. SO UNFAIR!"
What I say: "Thanks for joining us!"
What I mean to say:
"Wow! I can't believe so many people are joining! And I am so happy about the support you guys have shown each other and the good things you've done. You may never know how much your words of encouragement or your $5 donation means to someone. You guys ROCK!!"
Some of you have asked how you will know when "jobs" are assigned. Keep an eye out for my posts. They will also be on Twitter under the hashtag #blogfia. You may repost or retweet if you so choose.
If you would like to join the Blogfia, simply grab the button and put it somewhere on your sidebar. It's that simple.
Now go over to Chief's and read about her dear friend. Say prayers for Ramona, baby Ethan (Jaden's buddy who is fading fast), and Winey Mommy's family who is traveling alone to be with her family for her beloved grandfather's funeral (lung cancer). Tell them all that you are members of the Blogfia and leave them some comment love.
After that, let's go kick cancer's ASS!
Disclaimer: I am allowed to curse when it involves cancer. Mom will forgive me. So don't go tellin' on me

*ahem*

Supah!
Please donate only if you are financially able to: Prayers are PLENTY enough but we are banding together to try to raise funds for this family. Thank you for your help in any way!