OK people....I'm hooking up with two blog carnivals.
That's right ya'll...I'm double dipping.
They go hand in hand today, so I figured why not?! I'm a multi-tasker like that...
Go here to link up with
SupahMommy
and
Mommy Brain
for MEme Monday.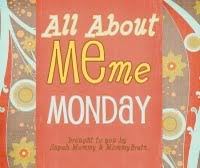 Go here to link up with
I Like to Fish
for Memoir Mondays.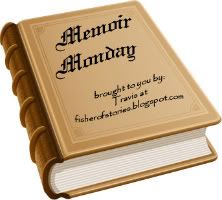 It's hard to choose my MOST memorable birthday.
I've had several good ones in my life complete with the naked barbie in the middle of icing.
It was
CRACK
HO BARBIE
in her stripping and slathering herself with icing stage so she could get money for coke
a sweet, beautiful princess cake....foreshadowing perhaps? (Not the strikethrough part!!!!)
I also had parties at the skating rink
where they always tried to give me boy skates because of my Dorothy Hamill haircut.
(It probably didn't help that I refused to dress in frilly, girly clothes either.
And lets not forget the party at McDonald's where my mom invited the meanest boy in the neighborhood who made me cry EVERY. SINGLE. DAY!
His name was Scottie.
I hated him.
He's probably at the state penn right now.
He insisted on getting in every picture with me. I wish my scanner wasn't on the fritz so that I could scan the pic of him squeezed in beside me in the booth with my Ronald McDonald cake.
Me, with said Dorothy Hammill haircut (I had it a few years) and my cute little dress my mom made me wear (to McDONALDS!), and Scottie trying to squeeze in the booth beside me for a picture.
The look on my face surely conveys the terror I have in my soul that he is close enough to kill me. Scottie just smiles an obnoxious smug smile while my mom snaps away on her little 110 film camera.
I think he had all the parents fooled because on the outside, he was a cute little boy. He had pretty blue eyes (which are probably boring holes through his state psychiatrists today) and platinum blonde hair....ironically in a style very similar to the Dorothy Hammill style mine was. (It was all the rage back then.)
Though I'm sure he probably thought it was the Scott Baio cut.
Oh, and btw, Scottie was his REAL NAME! I didn't change his to protect him. So if you see him, feel free to get vengeance for me. (Though I am sure someone in prison has given him a new alias...like "Sweet Cheeks"...by now.)
But back to the original topic...my most MEMORABLE (in a good way) was my first 29th birthday.
Shut up.
I can have as many 29th birthdays as I want.
*sticks tongue out*
I woke up that morning and prepared to go to work. The Prince told me I didn't have to go in that day because it was my birthday. I smiled and gave him a little kiss and said "Yeah, right! I wish!"
He insisted, "No, really. I called your boss and got you the day off."
Me: "Huh? No you didn't, did you?"
Prince: "Yep. And I need you to pack a bag. Bring your swimsuit and a coat." (It was April...in the south.)
Me: again..."Huh?"
So I finally gave in and rolled with it. I packed a bag with ridiculously unrelated items for cold and warm weather. Of course, this is all after I snuck the cordless phone in the bathroom and called my boss to make sure he really arranged for me to have the day off.
We got in the car and headed to the next town over. The prince pulled the car into the Hyatt.
Prince: "Here we are."
Me: "Bull baloney."
Prince: "No really. This is where we are going."
Me: "There's no way on God's green earth you'd spend money for a hotel this close to home!" (We were poor at the time.)
Prince: "I swear! We're staying here!"
I stayed in the car until he came back with the room keys.
So anyway, making a long story not quite as long. We get dressed and head to dinner just a block or so away at a local comedy dinner theater. When we walk in the hostess takes our names and says, "Oh, you are the last to arrive." I don't think anything of it, since I am very used to being the "last to arrive." (Punctuality has never been my thing.)
We walk in to the dimly lit room and she leads us to a long table full of people. Hmmm...I guess we sit with other people....Amish style.
Except that I KNEW all these people!
The prince had successfully pulled off a surprise party for my (first) 29th birthday! I had NO CLUE the entire time. It was a great show with great friends. We ended up all over downtown that evening and I was glad we could just walk back to the hotel when it was all over.
And
this
, my friends, is just one of the 4,216,375,839,526 reasons why I love my prince.
I'll save the story about how I reciprocated his kind gesture by accidentally throwing a surprise party for my

collegiate football playing prince

and all his

collegiate football player buddies

at a
GAY BAR
for another day......