Have mercy! With all these blog carnivals running around....who needs to leave the house for therapy anymore?
Between Supah's Post It Note Tuesdays, Chief's What I Meant to Say Wednesdays, Kmama's Thank You Very Much Thursdays...I don't have much time to do any spontaneous blogging.
I feel like I've been holed up at some therapy camp with Dr. Phil....except without all the yelling and stupid metaphors....no wait....I think there was a little yelling...but I don't remember any metaphors.
Anyfreud,
I am much more emotionally stable now....which trust me...is a really good thing for us all. I'm also able to practice
getting a backbone
standing up for myself.
So here goes...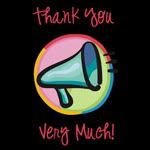 To the wintry mix that's scheduled to arrive this weekend when I have plans for dinner and a movie with my girlfriends after MONTHS, and MONTHS, and MONTHS of the Prince being in the woods hunting leaving me at home with the kids....thankyouverymuch.
To the annoying show off, know-it-all person who is involved because you want to be in the know (not because you want to make things better) and whom I know is involved in stirring up trouble cause I am a therapist and I analyze EVERY. SINGLE. WORD. YOU. SAY. as well as interpret your body language...I'm on to you....thankyouverymuch.
To the diet I started 4 days ago (and not in January because you all were doing it gung ho then and I am a
rebel
renegade
stubborn
nonconformist
hard headed
*sigh* diet hater)....I am starving....please hurry up and get me over the hump and into the zone....thankyouverymuch.
To my twitter friends who did NOTHING to help talk me off the Girl Scout cookie ledge on day two....thankyouverymuch.
Supah told me to jump. Just "weight" and see how supportive I'm going to be for her Skinny Chics in Sumo Suits challenge .
To the medical morons responsible for telling my friend Kmama who had to stress all night about taking her baby to be sedated and get an EEG today only to show up and find out the machines were acting up and they would be put on a standby schedule, but possibly will not be able to do it today at all even though she took the day off work....thankyouverymuch.
To the 240 million dollar lottery ticket who refuses to be bought by me so that I can make the world a better place, meet relatives I never even knew I had, and buy lots of pretty shoes....thankyouverymuch.
Now run on over to Kmama's Daily Dribbles to link up with other
snarky
thankful bloggers. And give
Kmama
some love while you are there. But please, no inappropriate groping and grabbing or JDaddy/Dawg will have to punch you out
like he almost had to punch out Jared Leto
.
UPDATE: My link on Supah's Mr. Linky is wrong! This is an old post! If you want the current one go HERE!