Tuesday....one of my favorite blogging days. Why? Cuz it's short and sweet. (Sort of.)
If you haven't tried it yet, you should. And check out Supah's Valentine give away.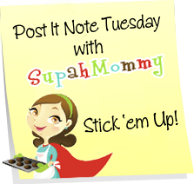 Don't forget to participate in this week's edition of The Skew. In honor of Valentine's Day....ROMANCE. What does it mean to you?
Tell us about it and come back to link up. If you don't, there will be no chocolate hearts for you!