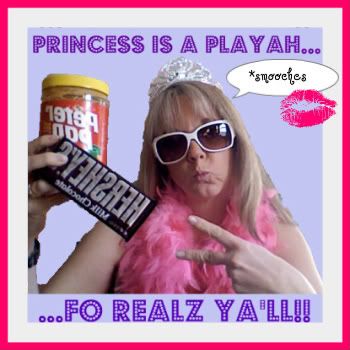 That's right ya'll...Princess is a playah....a Survivor playah. (As long as you don't make me sleep in a hut, eat a maggot infested
delicacy
eyeball from a sheep's head, or wipe my delicates with leaves and other random assorted jungle items.)
I will do ANYTHING to win Supah's Survivor game. As evidenced from my picture, I am even willing to STRIP
for peanut butter and chocolate
to win.
Forgive me Momma.
Luckily
for you
I was wearing my boa...
It's ON like Donkey Kong
Meeko
boys and t
he rest
girls. The ghettofied, sweet tea Princess is challenging you to BRANG IT!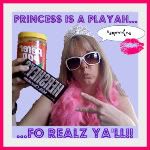 This week's challenge was truly a doosie for me. We were

ordered

asked to make a button (aka a "buff"on) that represented our Survivor identity in Supah's game. In case you didn't already know it, I am HTMLtarded. (And yes, I had to double check to make sure I had the H.T.M.L. in the right order.) Thanks to
Amber's superfly button tutorial
, lots of my fellow idiots competitors were able to complete the challenge.
Don't ya'll think I should be picked for the winnah? I mean...so what if some of the other contestants
cheated
used animation in their buffons? I'm NAKED for heaven's sake!!!