You know what that means.
All the cool kids are doing it...
You can join in and make your own post-its.
Click it. Do it. Link it. Read it. Simple as that.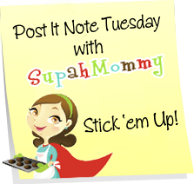 And don't forget this week's hot topic on....
This week on the "skew."

The Cheetah Woods Press Conference. Did you watch? What did you think? Do you think public figures should apologize publicly? Do you think it is sincere? What's your "skew." Write a post and link up on Thursday!