Post It Note Tuesday...just one of Supah's brilliant ideas that has become a bonafide blogsation. If you aren't already doing it....you are probably a moron. And I say that with the utmost respect.....
Click the post it below to join in all the fun.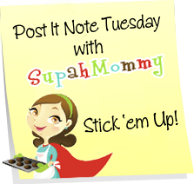 Okay, if you're new around here and you really dont' know why...
click here
and you will understand.
Want to increase your Twitter following? Come back tomorrow and we'll show you how.