Ok...that's not quite
at all
true.
But I DID win a BLOG makeover from
JESSICA at The Frilly Coconut
from
Jaden's Auction
.
I'm so happy that if I were at all limber I would be cutting
cheese
flips. But I'm not. So I won't.
I will, however, suggest that if you are thinking of getting a makeover, you should go see
Jessica
! She is so easy to work with and will
keep looking for more options upon your pushy demands
not stop trying to please you
though I'm sure she rolled her eyes every time I emailed her back
until you are happy.
I finally feel like I have a space that
is sassy
speaks to me. And look at all this elbow room! Nothing is cut off on the edges!
Jessica
even contacted the artist who originally designed my character and asked her to add a boa. And did you see my signature?! Awesome...right?!!
In honor of Jessica's awesomeness, I have declared this GO TO
THE FRILLY COCONUT
AND SCHEDULE YOUR NEW DESIGN DAY!
It's official. With trumpets sounding and everything.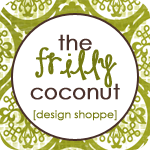 What are you doing?
This post is over.
Get moving.
Click and go.
Now.
.
.
.
.
Because I SAID SO!!
Oh, but before you go...be sure to grab my new button.
P.S. Thanks Jessica!! I love it!!

(And you.)

*insert royal smile*