Welcome to Yo Tweeps Twaffic Exchange....Supah's latest brilliant idea. That girl has more ideas than Snuffleupagus has hairs...or Tiger has ho's....or Perez Hilton has haters. Anytwit...
This is a test OF the emergency broadcast network or something... it's a trial.
WHy: Everyone wants to grow their twitter audience. Honestly, I see more blog posts from Twitter than I do by going to my reader. My reader overwhelms me these days...among other things.
Do you want to increase your twitter following too? You don't have Twitter?
If you haven't jumped into the Twitter craze yet, we have the way to get into it quickly. It's no fun without followers. But it is an awesome way to make new friends.
Shannon Tweed is this close *fingers together with tiny pace between them* to
taking out a restraining order
being my new BFF because of my comments to her on Twitter. Supah isn't the only one that can be friends with bonafide celebrities......
So play along with
Image courtesy of
Wolverine on August 20, 2009 by Dave Mott
To play along and increase your twitter twaffic: we need to meet some new people.
1. Follow me on twitter . Click on my twitter Icon above.
2. Shout me a hello on twitter. #yotweeps Then I'll know you followed and I'll reciprocate.
Want more tweeps?
3. Grab the YO Tweeps Button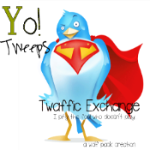 4.. Place it on your blog.
This helps to BRAND the Exchange so that it is recognizable.
5.
Put a twitter icon / link on your blog post like I did. (highway sign)
6. Link that post up below.
7. Visit some other YO Tweeps linkers on the list.
8. Follow them if you choose and shout out to them on twitter that you did.
Example: @princesssarcasm #yotweeps I'm following!
9. If someone follows you, reciprocate. It's that easy.