My son is leaving to go on his very first overnight field trip bright and early in the morning.
He's finally a big boy.

*tear*
I am not going with him.

*more tears*
No...not because I'm letting him go off to the big city by himself without a parent...(see, I'm not a helicopter parent.)

<---lie, lie, lie...but I'm working on it.
Hmmm....maybe I'll use Chief's "What I Meant to Say" to tell the full story.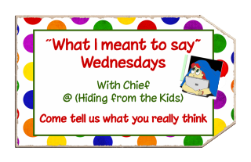 When my oldest heir said he wanted his daddy to chaperone his overnight field trip to my most favorite city in the south east...
What I said: "Oh, okay. You guys will have lots of fun. Do you want to take my camera?"
What I meant to say: "WHAT?! You don't want ME to chaperone you?!! I've suffered through every boring stinking field trip to the pumpkin patch, etc. and now that you are going somewhere I love with all my heart, you want your FATHER to go?! Who in the heck is going to take pictures? And by pictures, I mean of something other than your father's fat fingers! Bitter? No. I'm not bitter!"

<---complete and utter lie
And then when my youngest heir cried himself to sleep because he would "have no one to play with"....
What I said: "Sure you will sweetheart. Mommy will be here. And you can invite your buddy "J" over to play both days."
What I meant to say: "WTH?! Am I not good enough to kick your tail play you in Uno? Oh, maybe I won't have time since I'll be boiling a few dozen eggs for the big Easter party I'm planning after the egg hunt in your class on Thursday. Yeah, poor you. No one will be home to pay attention to you AT ALL!!"
When did I become chopped liver?
Oh yeah, now I remember....