A few weeks ago, my girls and I went to lunch and a movie...The Lovely Bones. It was the same day the stupid condescending waiter got too close for comfort.
Anyway, I meant to post about a couple of things I
saw

made a mental note to blog about

while I was there. So here I am today with...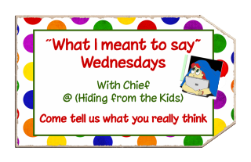 When the father brought his 12 year old daughter to see a movie about child abduction, rape, and murder....
What I said: Nothing. But I punched my friends and pointed it out to them and then we proceeded to talk about what a moron he was and how inappropriate it was on many levels.
What I meant to say: "Ummm...yes, Department of Social Services? I'd like to make a report."
When the disgustingly annoying woman in front of us came in with her extra humongous large tub of double buttered popcorn, jumbo Mountain Dew, and Moby Dick sized box of candy and then proceeded to chomp, slurp, chug, gulp, crunch, and smack the whole movie long...
What I said: Again, nothing...I punched my friends and discussed her lack of social graces.
What I meant to say: "Ummm...hello? Richard Simmons? We need an intervention. And do you happen to have the number for Miss Manners?"
And I would have said all that stuff (lie) if they didn't have that strict "no cell phones" rule in the theater. Cuz I'm all bad like that. (another lie)
Join us tomorrow for THE SKEW
This week's topic: American Idol
Who's your early pick? Do you like the addition of Ellen? Will you miss Simon next year? Why doesn't Ryan Seacrest go ahead and come out of Lance Bass's closet?
Write your post and then come link up with us here on Thursday.