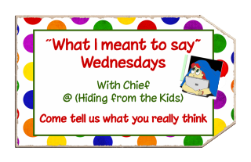 In yesterday's post it notes, I mentioned Meeko's post where a car salesman acted very ugly to him. If you don't read my posts everyday

shame on you

here is a link to it.
What I said: That was NOT very nice.

<---that's a lie. I called him out...as did everyone else who commented.
What I meant to say: Who do you think you are coming into the blogging world attacking one of our own? We are thick as thieves around here and we will eat you for lunch! Just call us the Blogfia.

*I am copyrighting that one right now...so don't go stealing it. You may use it if you give me credit...and link me...and send me cash and presents. I prefer dark chocolate and will accept gift cards as well.*
You know...this got me thinking.
shut up
The blogging world is fierce. If you try to mess with one of our friends, we will band together and take you down.
We truly are like a mafia....except we use written words instead of oozies. Our Blogfia© will take on cancer, big corporations, anonymous commenters, haters or anything else you throw our way.
We bloggers tend to stick together against the world outside of our computers....like when the NY Times wrote an article about Mommy bloggers. Or when
Ebay tried to rescind their offer
to waive charges for Jaden's auction. Anytime someone tries to leave a cowardly "anonymous" comment, they are usually ripped to shreds by the Blogfia. If you have a cause like t
his one
, or
this one
, or
this one
....we will put your buttons on our blogs and your friends on our prayer lists. We will retweet your info and get the word out. We are truly thick as thieves.
You want in our Blogfia? It's real simple.
You don't have to whack anyone.
Sorry to disappoint.
You don't have to knock over a bank or delivery truck.
Though I could use the cash and free merchandise.
You don't have to dress like anyone from New Jersey.
Thank goodness, right? And no one is allowed to hate on me cuz you're from New Jersey. We catch enough crap down here in the south, so that means I get to make fun of someone else every once in a while, k?
All you have to do is grab this button and display it on your blog. That will let everyone know you are a member of the Blogfia. And let it be a warning to anyone who tries to mess with you.....if they mess with you, the mess with your Blogfia family. Please use it wisely...for good...not evil.
Thanks to Amber who made this button for me on short notice. 
Check her out if you need buttons or other stuff. 
Disclaimer: I cannot be responsible for the content others choose to post when displaying the Blogfia button. If you are offended by their words, please go take it up with them. Not me. Thanks.