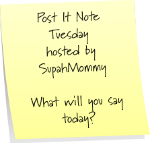 I'm participating in SupahMommy's Post It Note Tuesday.

(click on the post-it above)
You might meet some new and interesting bloggers....or have to call that friend of yours at the sheriff's department to expedite the restraining order on the new stalker on your blog. Or if you're like me....send a thank you note and flowers to said stalker because you're happy a new person is "following" you.

So anyways....here goes my Post It Note Blog.....